Tubus skylights SUNIZER Y14
Use of the skylight
receives and brings day light exactly there, where is the light needed
there is a possibility to regulate the light
increases the day light factor (helps meet hygiene regulations)
can be used in new buildings, low-energy buildings, historical buildings and in the buildings under historical protection
enable acceptance of objects with insufficient lightning
time less design of Sunizer enables instalation even in to the most demanding architectonical works
Czech patent No.: 20651/2010
Product design for Skylights SUNIZER™
| Type | Pipe diameter (mm) | Size of round diffuser (mm) | Size of corner diffuser (mm) | Lightning radius (m) | Lightning area (m2) | The most common examples of use |
| --- | --- | --- | --- | --- | --- | --- |
| SZ 230 | 230 | Ø 400 | 400x400 | 1,0 | 1 - 7 | WC, dressing room, narowhall |
| SZ 330 | 330 | Ø 400 | 400x400 | 1,5 | 5 - 17 | hall, bathroom |
| SZ 430 | 430 | Ø 600 | 600x600 | 2,0 | 9 - 27 | staircase, kitchen |
| SZ 530 | 530 | Ø 600 | 600x600 | 2,5 | 16 - 47 | Children and livingroom, office |
Size of the building hole for the skylight is by 5 mm larger than the size of the ceiling diffuser.
How to properly place SUNIZER™skylights on the roof structure?
The output of the skylights is greatly influenced by the proper choice of the size and orientation of the cardinal points.
When installed in a pitched roof is the best to place the skylights on the south or southwest side.
SkylightsSUNIZER™ and description of each part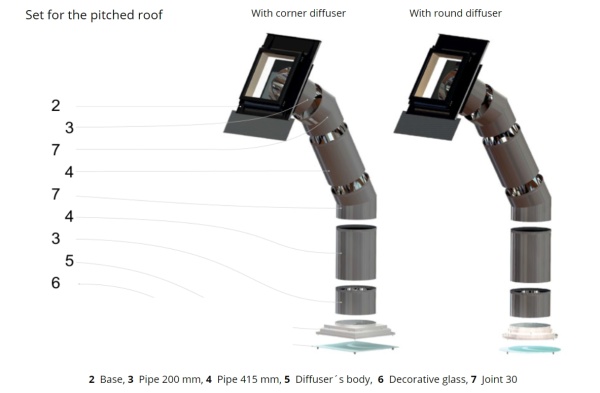 Skylights SUNIZER™and their ceiling diffusers
Round or square shape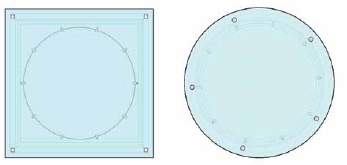 Skylight Sunizer offers two basic shape sof diffuser. Standart round shape and very attractive corner shape, which is suitable also for waffle ceilings.
Decorative glass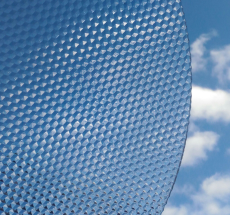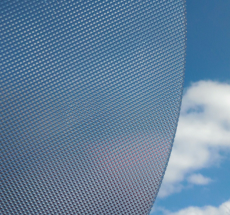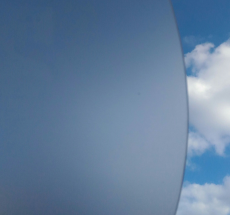 We offer skylights with mat glass (satinato) or ornamental glass (KRIZET, MED).

Color variations for frames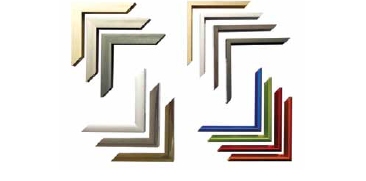 For the square (SQUARE) ceiling diffusers we can prepare on customer´s request various decorative frames in RAL colors.The basic design of ceiling diffusers is with no frame.
Night LED lighting for the skylight SUNIZER™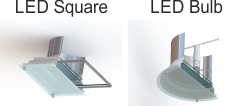 There is a possibility to install into the SUNIZER™ skylight the most modern LED diods system with high outuput and low consumption. The standard supplied color is cool white. LED shade can be customized according to customer requirements. LED lighting can look very attractive and carries a big plus for SUNIZER™ skylight.
Shapes of ceiling diffusers for skylight SUNIZER™
SUNIZER™ SQUARE Y13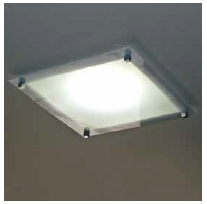 SUNIZER™ ROUND Y13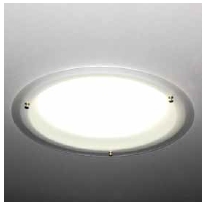 Accessories for skylight SUNIZER™
Thermizer™
THERMIZER ™ is a thermal-insulating element which is ideal for use in low-energy and passive houses. With the use of this element passive houses´s requirements for skylights are full filled and ensures negligible heat loss. At the same time, this element is airtight, vapor barrier and meets Blowdoor test without problems.
Extension tubes for skylight SUNIZER™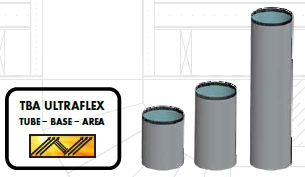 SUNIZER™ pipeline is composed of a solid, smooth and extremely shiny surface with a layer of super reflexive layer 99.98% of technical silver specially steamed in vacuum at AL sheet with high reflectance of 98%. The advantage is the large selection of extension parts.
Pipeline is available in these lengths 415 mm, 620 mm, 1250 mm
Adjustable joints for skylights SUNIZER™

The joint is flexible connection between two contact surfaces of skylight´s pipeline.Thanks to easily adjustable angle of the joint is achieved easy installation of skylights SUNIZER™ in pitched roofs.
Joints are available in two types with possibility of setting angles 0 – 30°, 0 – 45°.
Blackizer™ for tubus skylights SUNIZER™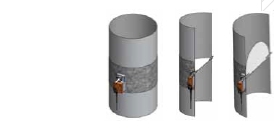 Circular dim out flap BLACKIZER™ with electrical motor is used to close or regulate the flow of natural light going in the pipe.Height of the flap is 620 mm.

SUNIZER™ PYRO set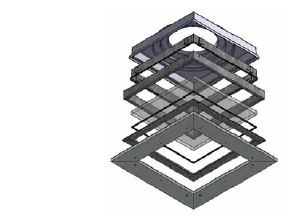 Skylight SUNIZER™ in PYRO design is a skylight with increased resistance to fire, which is used in the construction of interiors in buildings with prescribed in creased fire resistance. With the installation of fire skylight SUNIZER™ PYRO we increase the resistance of the structure of the building up to 30 minutes.
Wireless remote controls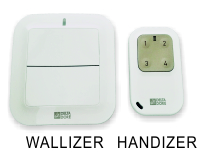 Wallizer™- wall Remote Control
Handizer™- hand Remote Control
Compact remote controls contain 4 buttons for 4 separate electrical equipment or 4 independent groups of electrical equipment: e.g. LED night lighting or darkening flap BLACKIZER™. With radio technology with a range of 100 to 300 meters in open area can be installed any where according to your needs such as walls, furniture or keys.
Thermal insulation makings of skylights SUNIZER™
Excellent thermal insulation properties of the skylight reduce heat loss from the building and provide a guarantee of a pleasant environment. Thanks to these features the skylight reduces heat loss and heat gain.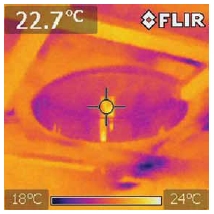 Into the skylight cannot get any water vapor. When coming into the skylight and the subsequent contact with the cold dome could cause condensation. The greatest emphasis to install skylightis put on tightness of the ceiling diffuser. When installing each part of the skylight then must be correctly taped all the joints by vapor tape which is included. After taping of all connections is recommended to insulate the skylight tube by thermal insulation.
To ensure normal thermal insulation parameters of the house is suitable for SUNIZER™ skylight installation with thermal-insulating double glass inserted into the ceiling diffuser.
Thermal-insulating element THERMIZER™ is primarily designed to be installed with skylight SUNIZER™ into passive houses or to houses with increased demands on thermal transmittance.

Flat roof and skylight SUNIZER™
Example of system SUNIZER ROUND FLAT with thermal-insulating element THERMIZER


Example of system SUNIZER ROUND FLAT with thermal-insulating glass in the level of a thermal insulation.
Pitched roof and skylight SUNIZER™
Example of system SUNIZER ROUND PITCH with thermal-insulating element THERMIZER

Example of system SUNIZER ROUND PITCH with thermal-insulating glass in the level of a thermal insulation.
FAQ
Canbe skylight SUNIZER™ installed on every type of roof?
Yes, the skylight can be installed in pitched even flat roofs. The skylight Sunizer™ has a base divided into two basic types. A Base for flat roofs and a base in appearance similar to the roof window for pitched roofs. From a distance the skylight Sunizer™ cannot be recognized from roof window.
In what areas can be skylight SUNIZER™ placed?
the skylight Sunizer™ offers very wide use.They can be used in existing houses, new construction, and administrative and industrial buildings.You can simply use it everywhere, the most common include: corridors, bathrooms, offices, warehouses, manufacturing facilities, etc.
Will I manage to assembly the skylight SUNIZER™ self-help?
Yes, if you have the expertise and will follow basic procedures mentioned in the installation list, then can be the skylight in a few hours mounted into a building. The skylight is a building-kit, parts fit into each other properly.
Can be the skylight SUNIZER™ installed in the house later, or must be installed during construction?
Skylight Sunizer™ can be freely installed in both new buildings during construction, as well as in older buildings. For specific suggestions or recommendations of the correct type is advisable to contact a Technician.
Is there a danger of condensation in skylight Sunizer™?
The whole system of skylight Sunizer™ is designed to prevent condensation. During the installation is important to observe the conditions of assembly instructions. There must not be forgotten compliance for steam-proofing.

Skylights exclusive parameters
Comparison of room lightning before

installation of SUNIZER™ and after its installation
Czech product with an unusual variation
Elegant look of light diffuser in the interior
Numerous shape and color variations in the appearance of the interior
Effective light out put thanks to the Fresnel lenses
Significant architectural design in the interior
Subtle appearance of flat roof collar
Built-in LED diods add to the attractiveness
High emphasis on product quality
Wide range of accessories
Comparison of tubus skylight SUNIZER™ with other skylights
Uniformly overcast sky 20000 Lux
Number of reflection
Solid tube Sunizer (reflectivity98%)
Solid tube others (96% reflectivity)
Flexible tube (reflectivity 80%)
1
19600 Lux
19200 Lux
16000 Lux
5
18078 Lux
16307 Lux
6554 Lux
10
16341 Lux
13297 Lux
2147 Lux
15
14771 Lux
10842 Lux
704 Lux
20
13352 Lux
8840 Lux
231 Lux
25
12069 Lux
7208 Lux
76 Lux
30
10910 Lux
5877 Lux
25 Lux
Order:
All items from the range of tubular skylights SUNIZER™ are currently available in 5 working days.
The goods is possible to order directly on this sites throught contact form or by email on the address export@abcweb.cz, by phone + 420 725 885 542 or by fax 420 545 234 443.
We offer further training in design, planning and realization of tubus skylights SUNIZER™.
We provide a complete service, including installation.
Consultations on the issue of tubular skylights SUNIZER™ for free!!